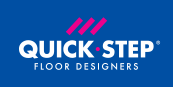 ---
Whether your next project is fueled by romance, future baby plans, or simply a desire for change, your floor will be one of the first items on your checklist. It is, literally and figuratively, the basis of your interior, and a fresh start for you and your loved ones. Are you ready to start something beautiful?
WITH SO MANY OPTIONS TO CHOOSE FROM, THERE'S ALWAYS A QUICK-STEP FLOOR FOR YOUR HOME. PLANKS OR TILES, WIDE OR SMALL, MODERN OR TRADITIONAL,... THE CHOICE IS YOURS!
---

---
Buying a Balterio floor means making a long-term investment. What you want is a quality floor that will last a lifetime. And that's exactly what you get.
All Balterio floors are wear resistant, stain resistant, moisture resistant, impact resistant, scratch resistant, slip resistant, stable & strong, cigaretteproof, 100% healthy and compatible with underfloor heating. Provided the floor is installed correctly, we're happy to give you a 25-year warranty for residential applications.
Balterio is friends with the environment. All of our laminate floors carry the PEFC label, which is your guarantee of responsible forestry management and conservation. For every tree that we chop down, we plant a new one.
Send us your details and we will contact you
---